Bar & Restaurant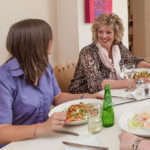 If you are looking for somewhere to eat in St Peter Port, then look no further than the hotel's restaurant and bar, which have recently been renovated, providing a stylish setting to enjoy a lovely meal with your family or with friends. Both the restaurant and bar are very popular with local Guernsey residents as well as hotel guests.
There's a Happy Hour and a Half every day of the week and a superb Cocktail list including all the Classics. The menus at La Collinette provide a wide variety and choice featuring both cosmopolitan and local recipes and dishes. A favourite location for hearty breakfasts, bar lunches and evening meals.
Dinner menus feature the freshest of seasonal and local Guernsey produce wherever possible (menu below).
At breakfast time, hotel guests can choose from a wide variety of cereals, fresh fruits, juices and our traditional, individually cooked Full English Breakfast (menu below).
Fine Dining and Speciality Restaurants for your dining pleasure in St Peter Port and the best food in Guernsey are on your doorstep – just a short stroll through colorful Candie Gardens to the seafront, harbour and picturesque centre of Guernsey's capital.
Guernsey restaurants have a great reputation for fine dining with wonderful a la carte menus featuring the freshest of local produce and locally caught fish and seafood. Local freshly caught crabs, lobsters and scallops are highly prized features of Guernsey food and in addition to the hotel restaurant, there are many fine dining and speciality restaurants in St Peter Port, which are guaranteed to add to your holiday expectations and dining pleasure whilst on holiday or business in Guernsey.
Breakfast Menu
Download PDF or view below:
La Collinette - Breakfast Menu

Dinner Menu
Download PDF or view below:
La Collinette - Menu 2016-2017