Terrace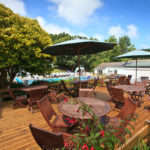 The Garden Terrace is a real sun trap and a wonderful place to enjoy a sundowner after a long day's work, or after "adventuring" on the golden beaches or fascinating cliffs walks and historic places of interest of Guernsey.
Neatly located in our beautiful gardens, just beside the large open air swimming pool and our fabulous little kiddies pool, where many a little one has, over the years, learned to swim, the Garden Terrace is an ideal place to meet friends and enjoy a cool, refreshing Cocktail, a tasty fresh Crab Salad in the Guernsey summer sunshine, or to simply relax and unwind, while reading your favourite book.
Guests are welcome to use the terrace at any time, including Happy Hour, and can enjoy al fresco dining at lunch or in the early evening choosing tasty dishes from our delicious restaurant or tasty bar menus.
Our Menu
Download PDF or view below:
La Collinette - Menu 2016-2017