Guernsey Tourist Guide
Where is Guernsey, the Channel Island?
Guernsey is an independent Island located off the coast of France, in the south of the English Channel. The quaint island is famous for its jurisdiction history and friendly people. The Channel Islands were the only British soil to be occupied by German soldiers during the Second World War and there are still many remnants and reminders of the war throughout the islands.
The Channel Islands include two Bailiwicks; Jersey and Guernsey. Though nowadays, most of the occupants are British, the Channel Islands were once part of the Normandy and many local inhabitants have French ancestors. Many names of roads, places and foods are French.
Guernsey is affectionately known for its history, attractive neighbouring islands of Alderney, Herm and Sark, blankets of beautiful flowers, its famous breed of Guernsey cows and rich feudal history.
Peculiar of the Crown
The Channel Islands have a quirky history and some unique, quasi-feudal customs. Termed a 'Peculiar of the Crown' they pledge allegiance directly to the English Crown, not to the parliament of the UK. As the last remaining territories of the Dukes of Normandy, they toast the Queen of England as 'Our Duke of Normandy'. They are not full members of the EU, although when Britain joined (the then EEC) in 1973, they were granted special privileges.
The islands delegate matters of foreign policy and defence to the UK parliament, but in other affairs they guard their independence zealously. Guernsey has its own government and legal system; it prints its own currency (including a £1 note) and issues its own stamps. Sark's constitution dates back to 1563 and its feudal form of government prevailed up until 2008 when, after months of infighting, the island held its first general election and Sark became Europe's newest democracy.
A Map of Guernsey
Guernsey is approximately 24 square miles in size and has a population of around 63,000 people. The island is the administrative and legal centre for the other islands (Lihou, Herm, Sark and Jethou).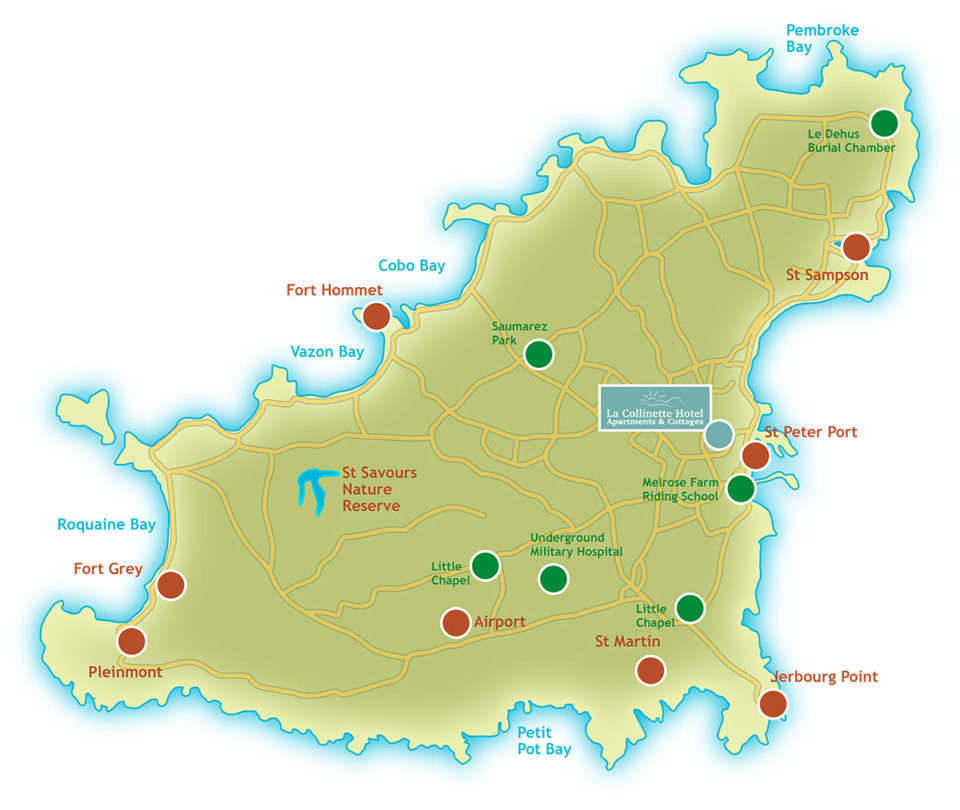 The island lies in the Gulf of St Malo, which is the southern part of the English Channel, 31 miles (50km) west of the Normandy coast of France and 75 miles (120km) south of Weymouth. As a bailiwick it also embraces the smaller islands of Herm, Jethou, Sark and Alderney. Herm and Sark can be easily reached by ferry (20 and 50 minutes respectively) while Alderney, the most northerly of the Channel Islands, just 8 miles (13km) from France, is more remote, taking 85 minutes by boat.
The island has an oceanic climate. Winters are mild and warm while summers are dry and hot.
In the summer the islands have a daily average of eight hours of sunshine and an average maximum temperature of 68°F (20°C); that's a bit warmer than the rest of the British Isles but the islands can't quite offer assured summer sun. The best months to visit are from May to September, July and August being the hottest. Sea temperatures are chilly or refreshing, depending on how hardy you are, averaging 62.8°F (17.1°C) in summer.
---
Things to do in Guernsey
It is impossible to exhaust all the beauty, history and sightseeing in this outstanding island. Whether it is your first time or you are a coming back, there are many places to visit and things to do in the Bailiwick Island of Guernsey.
From the moment your feet touch the ground, you will start to enjoy the attractive scenery. The Channel Island is a tourist scenic gem, with picturesque scenery, ancient castles and historic structures.
What better way to start your holiday and to get the best out of Guernsey by being centrally located in the quaint town of St Peter Port at our luxury hotel and self-catering accommodation. Whether it is a self-catering cottage or a luxury suite, you can make sure that you can rest in comfort after a busy day on the beach, visiting the islands of Herm and Sark or taking part in one of the following activities!
1. Go to The Melrose Farm Riding School with family
No matter if you are travelling alone or with your family, Guernsey is a perfect destination. Melrose Farm Riding School will keep you and your children interested, offer beautiful scenery for them to enjoy and provide an opportunity to learn how to ride while you relax and enjoy yourself. There are great packages, like Beach Rides, Pony Treks and Scenic Hacks to make you and your family enjoy the wonderful outdoors in this beautiful location. Experienced kids can participate in riding competitions. Pony Parties are also available to make sure that all the children have fun.
2. Visit the ancient tombs
No, it is not as spooky as it sounds. The ancient granite tombs date all the way back to the Neolithic Period. Visit the Le Dehus Dolmen, an impressive, well-preserved passage tomb located just away from beautiful L' Ancresse Bay. The painting of the Guardian of Le Dehus, an old, bearded man with an arrow is estimated to be over 4000 years old and is the main item of decor. To get inside, you will go through a small, wooden door that will add more thrill to your tour.
3. Go on the Kayak Safari
The island has an extremely, attractive coastline. One way to explore the beauty of its sandy beaches is by taking a Kayak expedition. Book a trip to the island south coast and experience the many caves and bays which are only reachable by sea. The expeditions are suitable for persons of all ages, over the age of six.
4. Witness the Noon Day Gun and explore the fascinating museums in St Peter Port
You can be sure to be impressed if noon finds you at Castle Cornet, overlooking the picturesque harbour of St Peter Port, the island state's revered capital. Get there a little early and tour the five museums around the town. Learn about the military history of Guernsey at La Vallette Underground Military Museum, sea-tales at the Maritime Museum and ancient art at the Guernsey Museum and Art Gallery.
5. Enjoy sailing to one of the other Channel Islands
Guernsey is just one of the spectacular English Channel islands. The stunning island's Herm, Sark, Jethou and Alderney are only a short sail away. There is opportunity to hire a skippered yacht from one of several local charter companies, to explore the coastline and islands. Alternatively get on one of the ferries any time of the year or board a fast catamaran (seasonal) and enjoy the charms of the other islands. Herm is a great place to start, with its attractive seabirds and floral tapestry made up of beautiful, wild flowers. Capture the best scenes at Shell Beach, Le Manoir Village, Belvoir Bay and Herm Harbour. There are no cars on Herm Island!
6. Get an up close view of Atlantic Grey Seals
Guernsey Island RIB Voyages offer sight-seeing trips around the islands aboard Rigid Inflatable Boats (RIBs), or join a boat cruise deeper into the Bailiwick waters, where the Atlantic Grey seals come to play on the islets and rocks. The seals haul themselves to bask on dry, rocky grounds, giving you an up close view of them, in their natural habitat. Once in a while, your eyes might catch a glimpse of a dolphin if you are keen! Or lucky! Herm Island is famous for its treasured Puffin colony which offers a rare chance to spot these scarce and beautiful little seabirds.
7. Explore the Hauteville House, Home of the Legendary Victor Hugo and Les Miserables
Victor Hugo is a legendary literary who lived in the Hauteville House for 15 years. During that period, he wrote of his tribulations after being exiled from France. Hugo purchased the Hauteville House in May 1856, but it is now owned by the City of Paris. There are French guides to give you a tour of Victor Hugo's house, which includes the boudoir from where he wrote his famous works; Les Miserables and Toilers of the Sea.
8. See if you can find pictures of the Royal Family by visiting the charming Little Chapel
Dating back to the early 1900s, the Little Chapel attracts visitors and pilgrims from all over the world. Also at the chapel is an ancient shrine to the Virgin Mary, adorned with offerings and gifts. You will have a lot of fun as you try to find the portraits of Queen Mary and King George V amongst the artistic shells, pebbles and pottery pieces.
9. Know what life was like during the Second World War, when Germans took over the islands
Enjoy learning history of the German's stay in the islands at The German Occupation Museum, a personal collection of local historian Richard Heaume's memorabilia. You will discover artefacts, machinery, vehicles, photographs and videos that date back to the world war period. The Channel Islands are the only part of Britain that Germany was ever able to capture and occupy.
In the grounds of our hotel, you will find the Museum of the Third Reich Channel Islands Communications Centre, where you can discover what it was like to live and work underground in a real German Bunker during World War Two, when the island was occupied.
The Pleinmont Tower located on the southern tip of Guernsey also represents Germany's occupation of the island in the 1940s. From this tower, the Germans opened fire at oncoming British aircraft and shipping. Take time to visit this historic landmark.
10. Enjoy large outdoor space at Saumarez Park
Saumarez Park is a great place to go with all your family. There are a variety of indigenous species of magnolia trees, a huge playground, a tea-room that offers delicious snacks and the Victorian garden. Enjoy walking through a well-preserved nature trail to Cobo Bay, exploring the Costume Museum and observing hundreds of wild birds and ducks in Guernsey's largest duck pond.
11. Spend time at the beach
Guernsey has the most beautiful, golden sandy beaches where both locals and visitors come to enjoy water activities like sailing, swimming, surfing, diving, pootling and sunbathing. Appreciate bathing on Petit Pot Bay, where small streams flow into the sea. Have a swim or learn to boat ride on Rocquine Bay which is near Fort Grey, the famous shipwreck museum. Surfers should take a walk to Vazon Bay, which is especially good for windsurfing.
---
---
How to get to Guernsey?
Guernsey is an island in the English Channel. It is easy to get there by boat or plane.
By plane
You can directly get to the island with these airlines.
Using Flybe Airlines, you can get to Guernsey from airports in any of the locations below.
Scotland – Aberdeen, Edinburgh
Ireland – Dublin, Belfast
France – Chambery (Winter only)
Spain – Malaga (Seasonal)
Switzerland – Geneva, Zurich
Netherlands – Amsterdam (Seasonal)
Germany – Frankfurt(Seasonal)
The UK – London, Birmingham, Manchester, Southampton, Exeter, Bristol and East Midlands. Edinburgh, Norwich and Belfast also offer seasonal flights.
Jersey
The Isle of Man
Aurigny Air Services links Guernsey to many of the same destinations as Flybe (East Midlands, Dinard, Bristol, Grenoble, Gatwick, Alderney, Stansted, Manchester, Southampton and Jersey). However, Aurigny is owned by the States of Guernsey and generally, has cheaper options.
Blue Islands Airports link Guernsey to over 30 destinations, including Geneva, Isle of Man, Southampton, Cardiff, Jersey and Zurich, all year round.
By Boat
Condor Ferries operate from St Peter Port to France, the UK and the rest of the Channel Islands. Throughout  the year, high-speed and conventional Ferries run from Poole and Portsmouth to Guernsey.
The Isles of Sark Shipping Company operates a frequent daily service between Guernsey and the ancient feudal island of Sark.
Travel Trident provides a daily ferry service to the paradise island of Herm.
---
Car Hire In Guernsey
If you are not into using the frequent local bus service, cycling trails or just walking around the islands beautiful cliff walks, you can hire a vehicle at an affordable price from local car companies. Hiring a car means you will have nothing to miss. Most of the car hire firms in Guernsey have a variety of vehicles for you to use as you cross the island, shop and move from tea rooms to more breath-taking scenery.
A valid driver's licence and insurance cover are required for you to drive legally on the island. For more information on car hire, ask at the Airport Information desk, at reception or look up car hiring companies online.